Hello!  Back with a favorite find….I know it's been a while.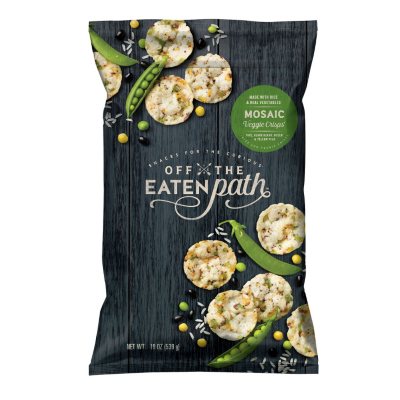 This is my newest favorite find.  Off the Eaten Path Rice and Veggie Crisps.
I got this 20 ounce bag at Sam's Club for less than $6
The are are healthy and delicious snack that I and my kids all love.
They are made with rice, green peas, yellow peas and black beans.
They also contain 3 grams of fiber, 3 grams of protein and less the 1 gram of sugars in a 1 ounce serving which is about 15 pieces.  The pieces are a little larger than a half dollar….uh, wait…..I just totally aged myself.  For those of you who remember half dollars, we understand one another!  For, those who don't know, I'd say about the size of a mini rice cake, only very thin.
They are very crisp and not really flavor packed on first bite, but there's just something about them that makes you want to eat more!
If you have tried them leave a comment and let me know what you thought.  If you haven't try to grab a bag and give them a try, unless you can't eat legumes and then come back and let me know what you thought!  These are GF, DF, Kosher, NF
Happy Gluten Free Snacking.
You can check out other Favorite Find Friday items here.